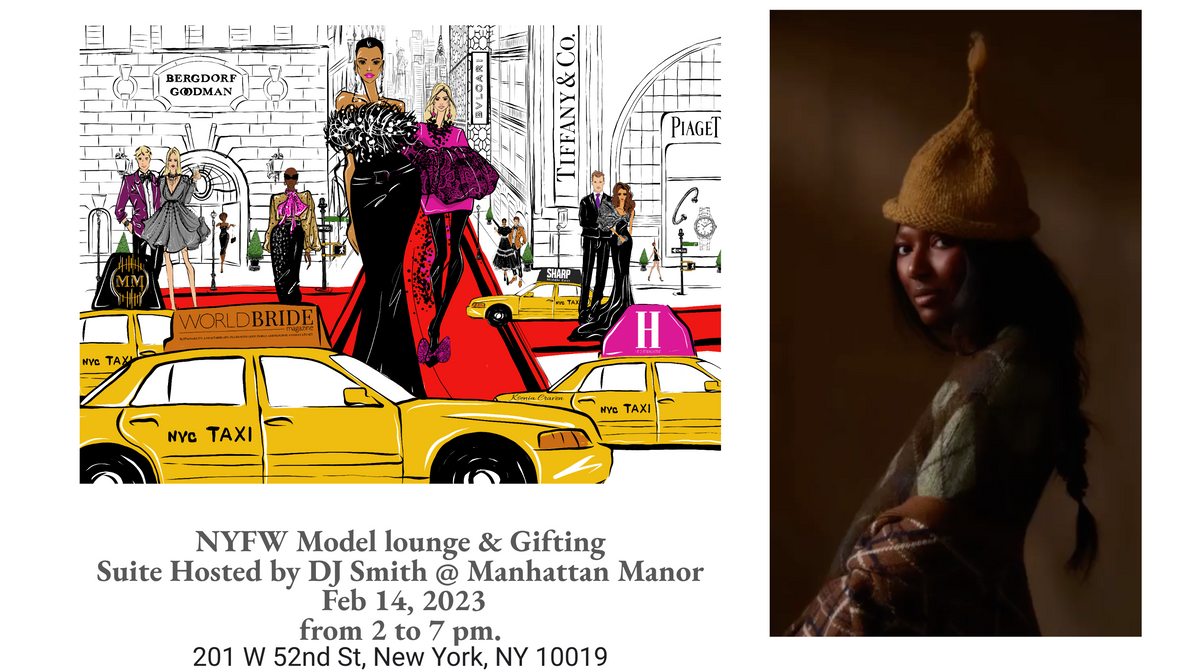 NYFW SMALL BUSINESS GIFTING SUITE
February 14, 2023 2pm - February 14, 2023 7pm
Celebrate NYFW with World Bride Magazine, Height Magazine, and Sharp Magazine hosted by super model DJ Smith.
The suite celebrated small businesses such as Style Esteem, Non Artisan, Styles by Rowena Husbands, celebrity stylist and designer, Carlton Jones Collection, Bifties, Hanna Soule Powderly Art, Char Boutique and Inherent which served an amazing Fall/Winter 2023 collection for the evenings fashion show. Designer Taylor Draper unveiled his latest line of menswear which effortlessly complements the ladies as well. The show supports Draper's organization, Foundation by Inherent targeting men's mental health & wellness-eliminating stigmas. "My mission wil not be complete until phrases like, 'walk it off or man up' are redefined in our vocabulary to mean that a man is in touch with his feelings and can communicate them in a healthy way"- Draper Historic fine jeweler's Piaget and SOUL by Amal Ameen supported the cause.
As press-media, influencers and celebrities such as Rolonda Watts prepared to watch the runway light up. The lights would dim with the photographers in place. The crowd's participation grew louder and louder with applause phones went up as each model walked. Spotted on the runway; Samson Styles, film director/producer and writer, A.T. Mitchell of NYC Gun Violence Coalition and artist/musician Tone Smith. The after party ensued with a book signing by Tucci himself.