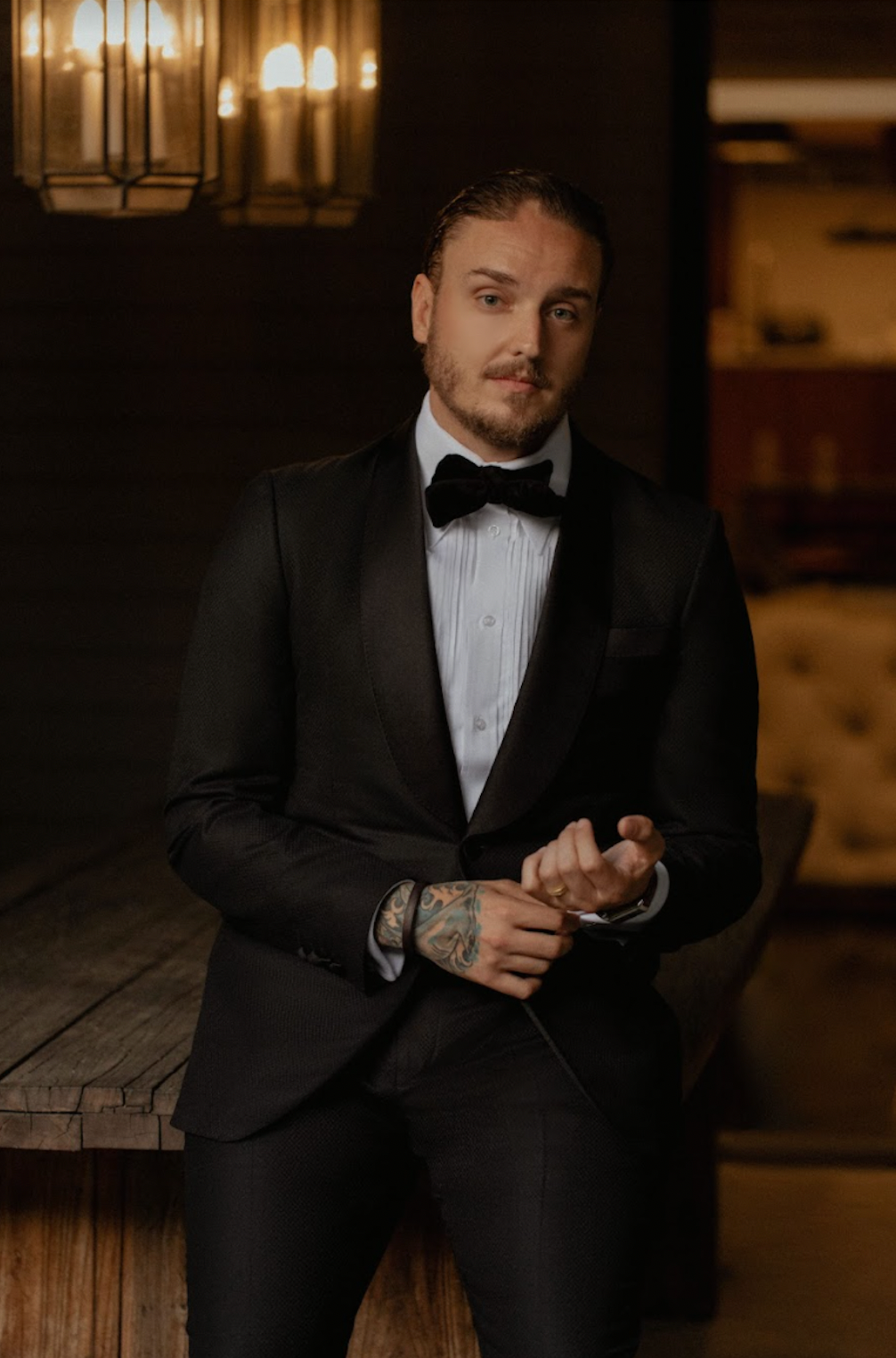 INHERENT FOUNDER TAYLOR DRAPER IS MAKING HEADLINE AGAIN–NAMED AS DESIGNER OF THE YEAR FOR THE NYC CONTROVERSIAL ART SHOW- HIDDEN X SOUL
May 4, 2022
PRESS CONTACT:
MYRDITH LEON-MCCORMACK
917-325-6951
FOR IMMEDIATE RELEASE
"INHERENT" FOUNDER TAYLOR DRAPER MAKES HEADLINES AGAIN–NAMED DESIGNER OF THE YEAR FOR SECOND ANNUAL NYC CONTROVERSIAL ART SHOW "HIDDEN X SOUL"
Invite-only NYC Controversial Art Show takes on gender dysphoria through music, dance, art, with conservative and progressive voices on topic of sexuality and gender
NEW YORK, May 3, 2022 | Hidden X Soul (HXS) has officially announced INHERENT founder and designer Taylor Draper as the featured designer for their annual show for their second year. The invite-only philosophical art show will be held on Sunday, May 8, 2022 and will delve into the topic of gender and sexuality with conservative and progressive voices through fashion, music, dance, and art. Individuals interested in attending can visit hiddenbysoul.com and navigate to "click here to be considered" to apply for consideration.
Taylor Draper created INHERENT as a passion project to battle the all-too-common "walk it off" and "man up" approaches to mental wellness struggles. Draper proudly partners with local and national organizations helping to build awareness around men's mental wellness issues like anxiety, depression, stress, and self-doubt. Through his foundation, he helps men build a fully functional, versatile wardrobe that awakens inherent inner confidence and authentic self-expression.
Draper will show his capsule collection at Hidden X Soul to a diverse group of forward thinkers who align with his own philosophy on how fashion meets mental health in a space where society is often discouraging men to express their emotions.
"We exist for all men, everywhere. We exist to shake the stigma of men's mental wellness," Draper states on Inherent.com. "We exist to help men rise above the stereotypes and expectations placed on them by society. We can't do this alone, and we can't just do this for ourselves."
HXS is New York City's hottest creative society that stands for three things: community, fairness, and philanthropy. Each show is the combination of various forms of art, featuring NYC creatives from all walks of life. Co-founder Amish Darr, who is a singer, songwriter and guitarist, desired to make an impact on the world through artistry and create positive change through fairness.
Amish explains, "Everyone is here because they are doing amazing things. It doesn't matter who they are. They are the undiscovered gems that deserve a chance to shine," Amish said. "On this show, we have a little bit of everyone."
Hidden X Souls is not a party. Rather, it is a deep dive into the soul - a mystical experience of entrancing music, dance, fashion, theater, art, dining, and an immersive installation designed to get everyone questioning what they think they know and what they think they feel.
Watch the promo here: https://www.youtube.com/watch?v=o5cN6SvwHrA&t=36s.
"Whether you believe in God or science, the bottom line is this: Everyone is different, everyone belongs, even if we disagree."
###
ABOUT TAYLOR DRAPER, FOUNDER OF INHERENT:
Taylor Draper admits he realized his passion for menswear, oddly, during one of the darkest times in his life. "My wife and I were struggling, going to therapy weekly (sometimes more), and trying to pull ourselves out of a mess. I was not doing well mentally, but as time went on, I started to realize that getting dressed for each work day in an outfit or suit that I felt good in helped my headspace. I leaned into that and started studying more about menswear and its rich history, all the while growing myself as a person and improving my mental health through therapy and support from other men. I realized, looking back on the journey, that dressing well and my own mental wellness were intertwined. When 2020 hit and the world stopped, I decided this was my opportunity to create something really special that could potentially help a lot of men just like me."
Through a lot of pivoting and rebranding and creating relationships with some of the best fabric mills in the world, INHERENT emerged. It is the luxury fashion brand for every man, and it has a larger purpose. Dressing well is directly connected to mental wellness, and we wanted to shine a light on that connection through Foundation by INHERENT.
The Foundation comes alongside men, hosting events called "Huddles" to provide resources to support them in their journey to mental wellness. A percentage of every single sale through INHERENT, whether it's online or in store, goes directly to the Foundation.
ABOUT HXS FOUNDERS:
Amish Darr (HXS Arthouse Director, Philosopher, Lead Musician) was born and raised in Pakistan of Kashmiri descent. But after changing religions, he was disowned by his people, so he identifies as a New Yorker, as he has been well embraced for who he is, not what he is, living here. His journey has shaped him to become a true eclectic who has an eye to recognize beauty in all cultures.
A natural born intellect with an instinctively philosophical mind, Amish is a gifted thinker. He has the uncanny ability to breakdown a topic to its purest form and analyze every side.
During his life, his collection of experiences has led him to infuse his love of music into the larger vision of HXS. "It's a miracle." He said, "All my life experiences have put me in the perfect place to do this and all the people I have met are coming together in this show. From my time in tech, to marketing, to being a certified handyman, a sound engineer, a door-to-door salesman, working in restaurants, vendor management and artist management. Growing up, I did theatre, and my father was an actor, director, and singer so I've always been on and around the stage. And of course, being a musician." Every experience throughout his life has allowed him to gain the knowledge to be a man who wears many hats during the production of this show.
The philosophy of the shows are rooted in the music of artist Amish Darr. He takes one on a musical journey by stunning the crowd with his heart fluttering melody, percussive instrumental, and magnetizing voice, expressing himself through personal narratives of both the eastern and western worlds, through languages of english, urdu, and punjabi. The feeling is raw, spiritual, vulnerable - present in the moment, unafraid of judgment by those around. Being relatable through pain of the past with hope for the future through music.
Hira Sabuhi (HXS Creative Director, Designer of all Things) is an American Pakistani Muslim who breaks the boundaries of her cultural expectations. She is a pioneer in the world of design, as she turns philosophical concepts into metaphorical immersive experiences.
Hira is an architectural designer by day and HXS Creative Director by night. With a rigorous training in architecture school at Cornell University and working at award winning architectural firms, including Arquitectonica, SOM and Rockwell Group, she has been prepared to think conceptually, execute practically, collaborate and coordinate with other disciplines, and integrate human behavior and psychology. Her curiosity and experimental nature push her projects to the unexpected, but with logical and disciplined parameters.
From the logo to the social media layout, to the HXS brand design itself ––Hira is the creative powerhouse behind HXS. Her architectural background was the foundation for expanding her conceptual abilities, "Whether it's architecture, interior design, graphic design, fashion, installations, or strategy, the capability to think out of the box can be translated into any medium. As you learn to push those boundaries, you become more in tune with the tools of each medium."
ABOUT MLM REPRESENTS AND MYRDITH LEON-LEON MCCORMACK:
Myrdith Leon-McCormack's work in the fashion and beauty industry as a former Huffington Post writer has led her to become one of the most sought-after branding experts with her firm MLM Represents.
Leon-McCormack oversees all practice areas and is involved in providing strategic direction to select clients. Her particular area of expertise is advising clients on how to best leverage their brand as an asset to serve as a powerful leadership tool and drive business performance. Her innovative strategies to connect consumers more effectively by associating them with the world's most influential celebrities, musicians, arts, film, and personalities have been part of her incredible success in collaborating with some of the industry's most influential people in the world of the arts, music, and film.
MLM Represents past and present clients list have included: Jazz Icon--Ron Carter, Isaiah Washington, Sheryl Lee Ralph, Lois Samuels–the Vessel, and Justin Davis. Her new business has afforded her the opportunity to travel the world to great countries such as Egypt, Qatar, Dubai, London, France, Ireland, to name a few.
Leon-McCormack is also executive entertainment producer of the WEAA 88.9 FM national public radio show, Keep It Moving with Marsha Jews and is editorial director of World Bride Magazine, where she drives the magazine into the 21st century where visions of people of color are seen in a more positive and progressive direction. Learn more at mlmrepresents.com.
FOR MORE INFORMATION PLEASE CONTACT:
MYRDITH LEON-MCCORMACK @ MYRDITH.BOOKME@GMAIL.COM OR 917-325-6951